by Krystiana Morales
Whitworth students, faculty and staff celebrated National Hispanic Heritage Month this October. Whitworth brought Nydia Martinez, Ph.D., to campus to lecture about "Honoring Diversity or Ho- mogenizing Identities?", and held a fair trade festival and invited a taco truck to feed students on campus.
Martinez, a history professor at Eastern Washington University, talked about the terms "Hispanic" and "Latino/a."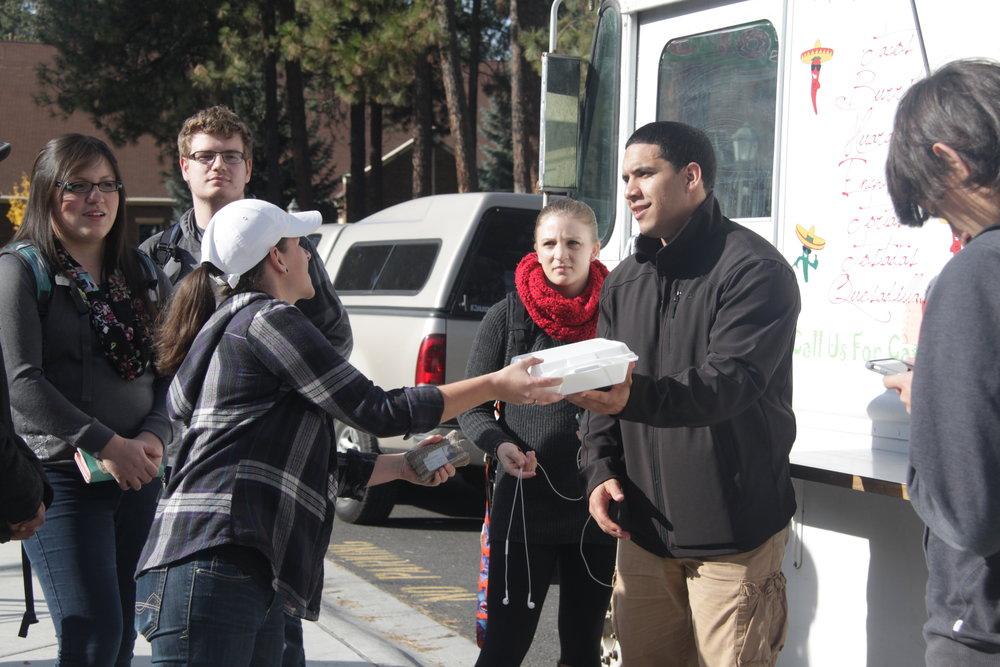 These terms create homogeneous labels for a diverse group of people, Martinez said. There are Latinos of Afro, Asian and Middle Eastern descent, and that mixed identity breaks the myth of a binary existing in terms of Latino identity, Martinez said.
Although Martinez focused mostly on the history of Mexicans in the U.S., she also touched on the history of Puerto Ricans in the U.S. as well. The U.S. has had a complicated relationship with Mexico. The U.S. calls upon Mexicans to help during times of war, but then push them out after the war and blame the fall of the economy on Mexican immigrants, Martinez said.
"You have to remember how it is this community, how it is they came to this community," Martinez said, when talking about the platform of undocumented immigration that politicians such as Ted Cruz and Marco Rubio are running on.
While terms like "Hispanic" and "Latino/a" are sometimes misleading labels for those communities, there is political significance and power that comes with the labels, Martinez said.
Martinez also talked about the media and how individuals get their information about Hispanic and Latino/a identities. The media present a homogenized version of what it means to be Latino, Martinez said.
Whitworth's H.O.L.A. club participated in Hispanic Heritage month by holding their third annual Latino Heritage Festival Oct. 23.
H.O.L.A. club president Karen Fierro and vice president Celeste Cam- pos spent the past couple of weeks planning to have Patty's Taco Truck come to campus, inviting vendors to participate in the fair festival and putting together a Ven Bailalo dance event. At the dance, experienced students taught their peers how to dance bachata, salsa and merengue. A photo booth and refreshments were provided at the dance.
The first 50 tacos provided by Patty's Taco Truck were free. Students lined up outside of Arend to get tacos and burritos even in the cold weather. Junior Lauren Drury attended the event for a burrito.
"I love having the taco truck on campus," Drury said. "I would love to see more events like this on our campus and I hope Whitworth would get behind those students who want to make it happen."
ere is importance in having events like this and bringing aware- ness to di erent cultures, especially for minority groups, Campos said. Some clubs such as the Asian Amer- ican Club, the Hawaiian Club and H.O.L.A. Club exist on campus to
bring that awareness into Whitworth. "When learning about a di erent culture you have to be open-minded," Campos said. "Events like the Hispanic Heritage Month Celebration help others be more open-minded and see di erent perspectives that di erent cultures have to o er. I think having di erent perspec-
tives is good, having a perspective that is not just your own."
e Whitworth community tries to foster support for students who want to bring awareness about other cultures but there could be more support from the students, Campos said.
"It is important that we continually strive to learn more about other cultures because it helps us to better understand each other and to be more compassion- ate in our interactions," Drury said.
H.O.L.A. meets in Hendrick Hall every other Thursday from 6-7 p.m.
Contact Krystiana Morales at kmorales17@my.whitworth.edu