by Katie Shaw
The facilities department received a $10,000 grant from the Strategic Initiative Fund (SIF) to start a compost tea program last January. It will be a cheaper and less harmful way of fertilizing campus plant life, Groundskeeper August Weil said.
"The idea of that program is to transition the campus from synthetic fertilizer and chemical-based herbicides to using the compost tea to be a robust fertilizer for the soil," Weil said.
Weil sprayed all the grass inside the Loop, from the Hixson Union Building to McMillan Hall, with the compost tea for the first time on April 9. The sprayer is attached to one of the facilities department's Gator utility vehicle.
The compost tea machine makes decomposed material, such as fungi and bacteria, into a tea that can be used as a cleaner, more environmentally-friendly fertilizer, Weil said. It creates a kind of food web in the soil, and makes it much healthier.
"Compost tea is not a fertilizer in the simplest sense," said Aaron Sommerville, general trades maintenance and repair. "We're growing soil rather than growing grass. We're creating a healthy ecosystem."
Weil said that over the course of 10 years, he sees the compost program being complete. Facilities still has a lot of expensive chemical fertilizers and pesticides, which need to be used before the transition can be completed.
"Hopefully when it's all gone, we don't have to buy more," Weil said.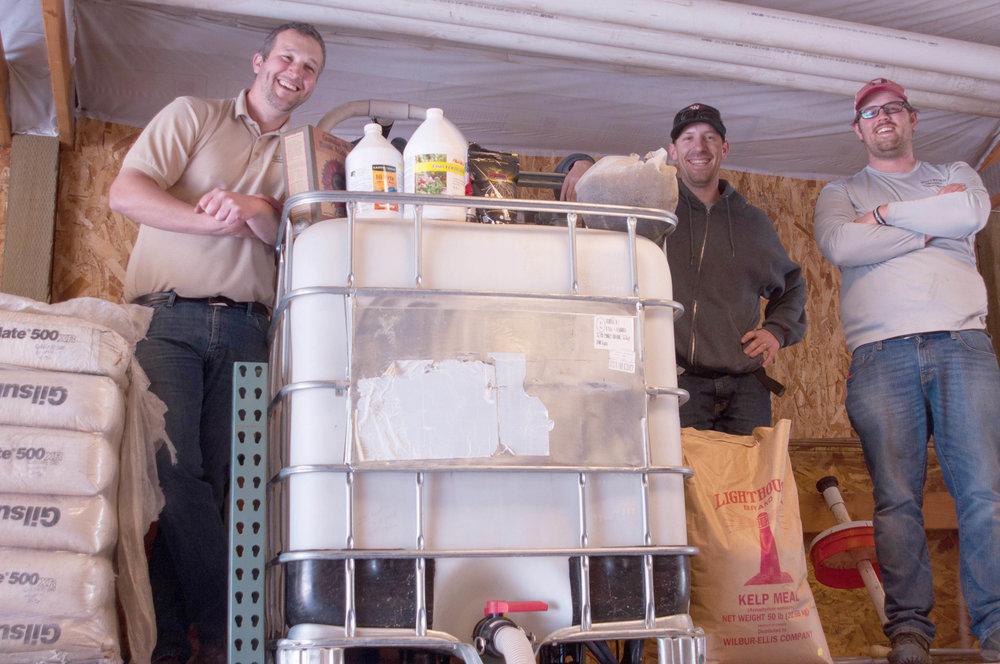 To make a batch of compost tea, Weil mixes humic acid and fish fertilizer with 250 gallons of water in the tank. The "tea bag" is filled with 50 percent biodynamic compost and 50 percent vermicompost, along with molasses and kelp meal. They will experiment with the ratios of these ingredients to develop the best fertilizer, Weil said.
The machine brews and aerates the compost in the water mixture for 24 hours. It is then pumped into the tank on the utility vehicle, ready to be sprayed.
"One day hopefully we'll make the compost on our own," Weil said.
The brewing system is based on designs found online that Harvard University uses in its system, to which facilities made a few adjustments, Sommerville said. They needed to order the pump for the machine, but most of the other parts could be found at a home improvement store. The pump cost about $5,000, while the sprayer cost roughly $3,000, Weil said.
The remainder of the grant is allocated for plans for education on this subject. Facilities invited Dr. Elaine Ingham, a nationally known soil microbiologist and an expert on soil health, to Whitworth in the fall to speak about microbiology and compost tea and to host an educational workshop, said Fred Johnston, project manager and resource conservation manager.
"It's a cheaper, more long-term method than nitrogen-based fertilizers, and better for the environment. It's a no-brainer," Johnston said.
Whitworth currently pays $12,000 per year on nitrogen-based fertilizers, Johnston said. At this point, supplies for compost tea cost an estimated $1,200 to $1,500 per year, Sommerville said.
"I think the large blocker from our side is that there are a group of students that are really jazzed about things like this but there is always this block of people that have maybe never heard of something like composting, or aren't really well-educated," junior and sustainability coordinator Ashton Lupton said.
Whitworth's Kipos garden club uses some of the compost materials Sodexo makes. Kipos opened their four-bin composting site by the garden for anyone to dump leftover scraps or leaves, senior and Kipos garden club president Chris Grochowski said.
Grochowski said that the ideal situation would be to put compost bins in dorms, which would go to worm composting in facilities, which in turn would be used for compost tea.
"Pretty much anyone can compost without much thought," Grochowski said. "If you just pile things together, it's going to break down. The trick is you want it to be really high-functioning, working toward a ratio between [nitrogen and carbon materials] can be really helpful."